Board of Directors
President: Mrs. Teena Shouse, CFM, IFMA Fellow

Teena Shouse is the Principal Consultant at Facility Transitions.
After enjoying almost 30 years in different roles in the Facility Management profession, Teena is enjoying teaching, speaking and an occasional FM consulting project.
Her leadership as the Chairman of the IFMA Board of Directors and that of Chair of the Global FM Board of Directors enabled her to influence FM on a global basis.
Her technical expertise grew as the GM of Employee Services at Sprint HQ as well as the VP Client Services for Facility Engineering Associates.
When not playing her professional role she enjoys her family, church, friends and playing golf.
---
President – Elect: Mr. Markus Groll, Architect
 

Markus Groll, a registered architect, has been in the commercial design profession since 1988. As the founder and manager of companies in Germany, Jordan and the UAE, he has acquired a wealth of experience in architecture, construction and facilities management over the past 25+ years specializing in project planning and management in accordance with industry specific best practice standards.
Working with major clients in a consultancy capacity, he has provided advice and expertise on all aspects of building construction and maintenance. Due to his IT affinity, Markus has been also working with clients and companies to lead the implementation and configuration of CAD, BIM, CAFM, IWMS, IMMS and CMMS software applications.
In 1999, he established the IFMA Regional Chapter "Inn-Salzach" with the primary focus on informing about IFMA and facilities management best practice whilst securing new members for IFMA.  Markus was also the co-author of the German IFMA Planning & Project Management course and has been teaching that course for IFMA since 1998.
---
1st Vice President: Mr. Ondrej Strup, IFMA Fellow

Ondrej Strup graduated as a steel construction designer (15 years experience), then CAD (leader of computer center of designing company, vendor of CAD, EDM and CAFM – Nemetschek AG)
1999 established Czech Chapter of International Facility Management Association, first President, at present Past President of IFMA CZ.
External teacher of Facility management at Czech Technical University (CVUT FSv), Econnomy University Prague (VSE), lector of Facility management etc.
Leader of accredited Facility Management education program under IFMA CZ and Czech Ministry of Education (FM Institute).
IFMA Foundation Ambassador.
Named as head of Czech Republic for preparing of new EU FM standard (member of TC 348) and its translation.
Named as head of Czech Republic for preparing of new ISO Asset mnagement standard (member of PC 251) and its translation.
IFMA Foundation Ambassador Czech and Slovak Republic.
IFMA Fellow.
EuroFM Liaison in ISO PC 267 (ISO 18480 "Facility management") + representative of Czech Republic in this Committee.
Speciální zkušenosti: Facility management, Real Estate, Asset management, Property management, IT (CAFM, CAD, EDM), Education
---
2nd Vice President: Mr. Peter J. Stroup, PE

Peter Stroup is the Principal of SAGE International FM, a facility management consultancy based in Boston, Massachusetts.
He has in excess of 30 years of experience in facility – construction, project management, energy use & procurement along with all aspects of maintenance and operations, a portion of which associated with the electric utility industry.
He holds a BS in Civil and Environmental Engineering, an MBA and is a registered professional engineer. A member of APPA, IFMA, NFPA and NSPE.
Peter was a co-founder of the Project Management Institute, New Hampshire Chapter, and formerly held the designation of Project Management Professional (PMP).
He has presented on a variety of facility management topics at industry conferences including IFMA Fusions – USA and Canada, IFMA Work Workplace and NFMT.
Peter provides a unique perspective in facility management from consulting and owner viewpoint while continuing as the Director of Facilities at Harvard Medical School where he has been awarded the highest honor of Facilities Master.
---
Secretary & Treasurer: Mr. David Reynolds, CFM, FMP

David Reynolds is a founding partner in the FM consultancy Global Facility Management Alliance and an independent Facility Management consultant located in Jackson, Mississippi, U.S. He has a lifelong interest in how people experience the built environment and how the built environment hosts organizations and advances their purposes. His principal interests are in FM organizational problem solving for continuous improvement in performance – whether from financial, customer, internal process, or learning and capability point of view.
He holds degrees in science, engineering, and allied health areas. His pro bono work concerns safe and healthy housing, workplace safety, environmental health, and key process design and measurement.
David joined IFMA in 2003, became an FMP in 2005, and CFM in 2014. In addition to FMCC, he is active in support of programs of the IFMA OMHS Community of Practice.
---
Immediate – Past President: Mr. Val Moraes, CFM, MBA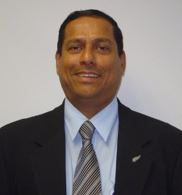 Val Moraes is the CEO & Managing Director of GregMore Group, a Facilities Management Consultancy based in Auckland, New Zealand.
He has more than 30 years of Facilities Management experience in various countries including India, Australia and New Zealand. His past experience includes senior FM roles with Super deluxe Hotels (Oberoi Group), High Rise Commercial Buildings (Colliers International) and Supermarkets (Progressive/Woolworths Australia) besides large Companies.
He holds a Graduate Certificate in Building Management (GCBM) and a certificate in Project Management from Victoria University, Wellington.
He is also the first New Zealander with Certified Facilities Manager (CFM) credentials from International Facilities Management Association, (IFMA).
Besides being one of the Founding Fathers and Foundation Board Member of Facilities Management Association of New Zealand (FMANZ), he is also the Past Chair and serves as an ambassador for FMANZ.
Val is an Accredited Professional for Green Star rating of Buildings in New Zealand (GSNZAP).